Doulas best support families if we, too, are in a community of support.
People are healthier before and after childbirth when they're wholly supported and empowered to make informed decisions. That's why our collaborative goal is to ensure clients have a cooperative network of support.
Birmingham Born is a collective of birth and postpartum doulas, childbirth educators, and lactation specialists. Each of our members is dedicated to ensuring families have positive birth experiences. By supporting one another, we better support you.
Allison Miller is a birth and postpartum doula, childbirth educator, and the founding member of Birmingham Born. In 2009, Allison, fueled by a passion for empowering people with information and choice, began her path as a doula after realizing that universally there was a lack of dignity and respect for birthing individuals in the labor room. After completing her Master's in Public Health with a focus in Maternal and Child Health and International Health, she acknowledged a disconnect between Health Care policy and the ability to actually help individual women. She trained through DONA in 2009 and certified through Doula Trainings International (DTI) as a birth and postpartum doula in 2016. In 2017, she certified as a Childbirth Educator through DTI. Through her work with DTI, Allison realized that there was a doula kinship in Birmingham that was missing, thus the creation of Birmingham Born. She believes in community over competition any day.
__________________________________________________
I believe that to the overlooked, a doula is a witness. To the powerless, a doula is strength. To the voiceless, a doula is a shout. To the disenfranchised, a doula is hope. I am a shoulder, a hand, a cool glass of water, a warm rag, a sounding board in a quiet place. A keeper of time and space. Someone that helps navigate systems, processes and emotions. Someone that translates and educates. At some births I am all of these things. And at some births I am simply there to observe.
Allison is a birth and postpartum doula and a childbirth educator.
Email: Allison@bhmborn.com
Instagram: @bhmborn
From day to day, Hope does the mama-partner-birthwork-justice-dance with a deep sense of purpose and fueled by coffee. After a season in Boston where she recently received a masters in Theological Studies and Conflict Transformation, Hope is back in the South! In addition to working as a DONA trained doula and placenta encapsulator, she walks the long and winding road toward becoming a midwife.
__________________________________________________
I believe 'Peace On Earth Begins With Birth' has the deepest socio-biological resonance. The act of giving birth and the conditions concerning the how-where-when-why of birth matters at the most intrinsic and spiritual level. Therefore, I understand my role as a birth worker to be compassionate-birth-space-protector-hands-off unless otherwise prompted by the birth-giver, aware and woke to the needs of the birther and fellow dance partner[s], ever-anticipating movements and the body-spirit needs that sustain those movements. My birth work is compelled by a deep commitment to remembering that life makes a way and that to witness such a miracle is the greatest of honors.
Hope is currently pursuing her Master's in Midwifery at Bastyr University.
Instagram: @forbirthgivers
Website: http://forbirthgivers.com
After the un-medicated hospital birth of her daughter in 2015, Christina contracted rheumatoid arthritis, struggled with postpartum anxiety and as a result, became acutely aware of the need for postpartum support in Birmingham. Following that calling, she has been trained through DONA International as a postpartum doula and through SBD as a birth and bereavement doula. Christina has a degree in sociology from UAB and holds a satisfying career as a producer, but feels doula work best fulfills her desire of making a meaningful impact on the lives of others.
__________________________________________________
Our society places a lot of unnecessary and unrealistic demands on parents, oftentimes isolating or overwhelming them. Additionally, there may be variables that prevent you from leaning on an adequate support system during your fourth trimester. It is my aim to help foster self-determination and empower families through use of non-judgmental, evidence-based support. By providing postpartum support, I enable you to emotionally and physically process and recover from your pregnancy and birth, or adoption process, thus allowing you to focus your time and energy on bonding with your new baby/ies. By granting you this time, we enable antecedent children, other family members and pets to integrate into the family in a gentle way. I would be honored to assist you with your postpartum adjustments and the possible challenges ahead to ensure that you yourself are mothered during this exciting, but sometimes staggering life transition.
Christina is a postpartum doula.
Facebook: https://www.facebook.com/magiccitymothers/
Instagram: @magiccitymothers
Sharon has been a birth doula since 2017. She loves best the emotional and mental aspects surrounding birth and is a champion of owning our stories as we undergo the changes that come and go with birth and motherhood.
__________________________________________________
Matrescence. A friend sent me a screen shot of this word defined the day I had my son to help me put words to the changes that started happening for me as soon as he was born. I realized I had just given brith to a new mother and she needed the celebration, care and attention she was giving to her child too.
I love being a witness and a soundboard to others who are in this incredible process of becoming mothers.
Sharon is a birth doula.
Email: Swettsone@gmail.com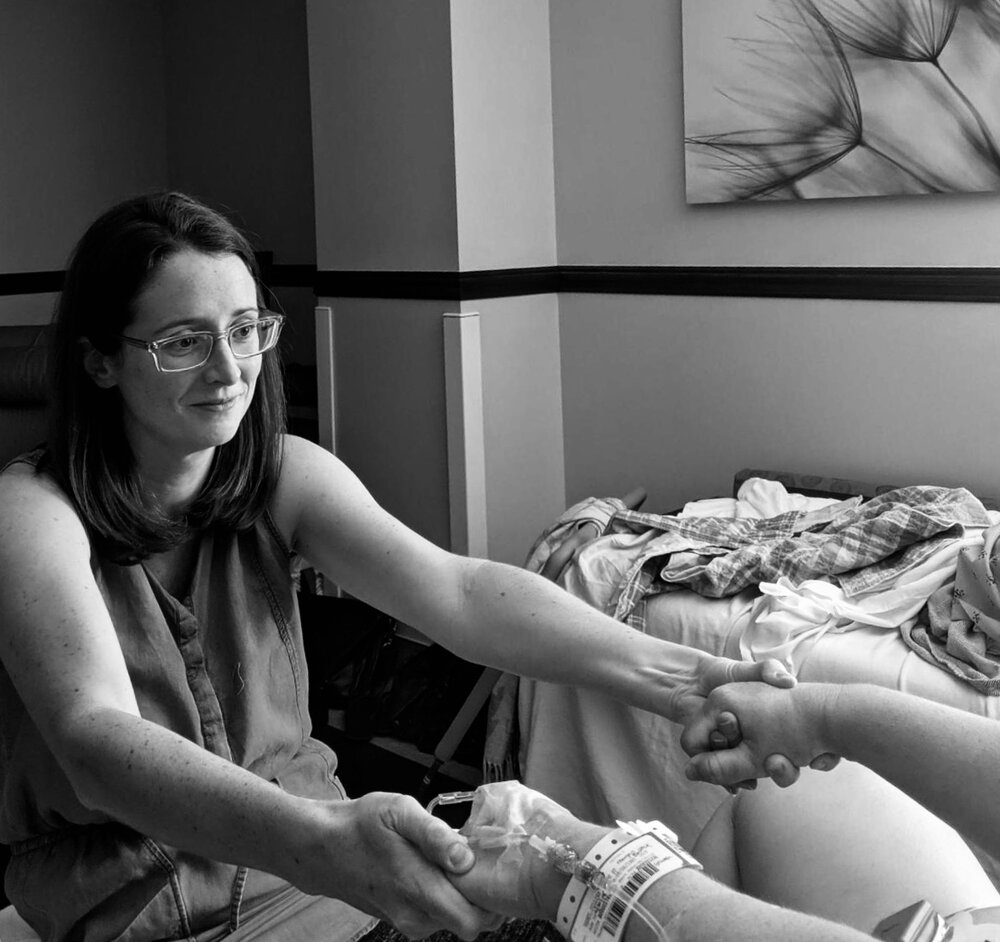 Catherine loves mothering her three delightful children. From epidural to homebirth, her beautiful, diverse pregnancies led her to birth work. She attended her first birth in 2014 and later completed birth and postpartum doula training through DONA International. When not mothering and doula-ing, Catherine teaches math at Birmingham-Southern College, inundating future parents with birth statistics.
__________________________________________________
Supporting mothers and families at their most sacred moments brings me great joy. It is an honor to create space for mothers and fathers to experience labors of love and confident, informed births of their choice. Throughout human civilization women have relied upon and supported one another through birth. I aim to bring a peaceful, knowledgeable presence; to provide physical comfort and emotional support where needed; and to connect you to the history and legacy of women and families through this work. In my children's births I learned so much about my own limitations and capabilities, the graceful and powerful truth of my body. It would be privileged to partner with you through the joy and power of your own birth journey.
Catherine is a birth doula.
Email: Catherine.dooley@gmail.com
Lauren Gavin has been working in the food industry for 7 years. After training to become a postpartum doula, she realized there was a need for meals that are centered around a mother's nutritional needs. There are so many misconceptions about postpartum nutrition. Food is a conduit for healing.
__________________________________________________
My mission is to bring light to the truth of what a mother needs after birth, and to provide those meals to our postpartum clients. I provide teas for lactation, golden milk blends that help sustain energy without caffeine and other stimulates, and meals that are prepared with seasonal, healing ingredients.
Lauren is a postpartum doula and chef.
Email: Laurensgavin@gmail.com
Emily Gray has been providing postpartum support to the Birmingham area for three years. After training through DONA International in 2016 she has assisted many families as they welcome new member(s) to their family. Providing vital support whether it be after pregnancy to child birth or after the adoption process. Emily has a career in medical transcription but is called to postpartum doula work and understands the vital importance of support in this sacred time for everyone involved. In addition, she has two children of her own, son Kal and daughter Lilliana.
__________________________________________________
Often times the amount of support available following childbirth can be lacking. New parents can feel isolated, left at home, overwhelmed. I aim to provide companionship, non-judgmental support, and education. I provide a variety of services based on each families unique needs. As the entire family experiences this new season, I aim to support mom through her physical recovery while also emotionally supporting the entire family. I would be honored to assist you with your 4th trimester.
Emily is a postpartum doula and placenta encapsulator.
Email: Emilycgray3@gmail.com